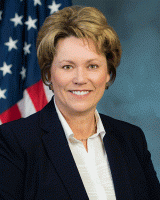 Kimberly Randall was appointed the Deputy Assistant Inspector General for Audit (DAIGA) for Western Field Operations in April 2016. As the DAIGA, Ms. Randall is responsible for overseeing the audits and reviews of HUD's programs and operations in the western United States.
Ms. Randall has over 30 years of Federal service, serving within three OIGs throughout her career. Ms. Randall began her Federal auditing career with the U.S. Department of Agriculture in Kansas City, MO, moved on to the Resolution Trust Corporation in 1991, and joined HUD OIG in 1995, remaining in the Kansas City area. She served as a senior auditor for HUD OIG until 2004 when she became an Assistant Regional Inspector General for Audit for Region 7. In 2010, Ms. Randall became the first Division Director for HUD OIG's newly created Civil Fraud Division and remained in that role until becoming the DAIGA in 2016. Through her auditing and civil fraud efforts in all major HUD program areas, Ms. Randall has brought about substantial monetary benefits to HUD and its program participants.
Ms. Randall has received many awards during her career, including multiple Awards for Excellence from the Council of Inspectors General on Integrity and Efficiency, HUD OIG Inspector General and Manager of the Year awards, and awards from multiple U.S. Attorney's Offices. Ms. Randall earned a bachelor's degree in accounting from Central Missouri State University in 1989 and is a Certified Public Accountant and Certified Fraud Examiner. She is also a member of the Association of Government Accountants and the Association of Certified Fraud Examiners. Ms. Randall is a native Missourian and lives in the Kansas City area. She and her husband have a son, daughter-in-law, and two granddaughters.