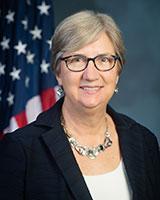 Athena R. Jones, Colonel, United States Air Force (Retired), was appointed as the U.S. Department of Housing and Urban Development's (HUD) Principal Deputy Counsel to the Inspector General in June 2019. She is responsible for overseeing the day-to-day operations of the HUD Office of Inspector General's (OIG) Office of Legal Counsel (OLC), which provides independent legal advice, counseling, and opinions concerning HUD OIG programs and operations. OLC also reviews audit, investigation, and evaluation reports for legal sufficiency and compliance with HUD OIG's policies and procedures. Additionally, OLC coordinates with the HUD Office of General Counsel and manages HUD OIG's responses to requests and appeals made under the Freedom of Information Act (FOIA) and the Privacy Act.
Ms. Jones started her military career as an attorney on an Air Force base and retired as the General Counsel for the Army and Air Force Exchange Service, an $8 billion retail organization – the "Walmart" of the military. While in the Air Force, she served as legal advisor to the Special Operations Command, deployed to support joint task force operations, negotiated agreements with the United States Army in Iraq and Afghanistan, tried numerous courts martial, and served as a Special Assistant U.S. Attorney and a Military Magistrate. After retiring from the Air Force, Ms. Jones completed a Master of Business Administration (MBA) degree and led a team of forensic auditors and investigators looking into black marketing in South Korea. She then joined HUD to head its Ethics Office, and in 2011, she transferred to the OIG.
Ms. Jones is a recognized leader in the field of ethics and has lectured on legal topics across the country before the Interagency Ethics Council, the Society for Advancement of Management, the Martindale-Hubbell Counsel to Counsel Forum, the Texas Bar Association, and the Army and Air Force Judge Advocate General's schools. For her Air Force career contributions, Ms. Jones was awarded the Legion of Merit, Defense Meritorious Service Medal, Meritorious Service Medal with four oak leaf clusters, and Air Force Commendation Medal with two oak leaf clusters.
In addition to her MBA, Ms. Jones holds a Bachelor of Arts degree in English and a Juris Doctor degree. She was commissioned in the Air Force shortly after she finished law school and retired 26 years later. She has been admitted to the bars of Oklahoma and Texas and is an honorary member of the bar of the Republic of the Philippines. Ms. Jones is a Certified Fraud Examiner and a Leading Professional in Ethics and Compliance.