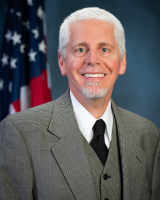 Mr. Brian Pattison has served as the Assistant Inspector General for Evaluation (AIGE) for the U.S. Department of Housing and Urban Development (HUD) Office of Inspector General (OIG) since December 2016. The HUD OIG mission is to use traditional and innovative approaches to promote economy, efficiency, and effectiveness in the administration of HUD programs. Mr. Pattison achieves this outcome working with his diverse team to produce work products that provide actionable information to HUD and OIG to drive mission success. The work of Mr. Pattison and his team have yielded numerous congressional briefings and hearings, secretarial briefings, and significant improvements within HUD. 
Throughout his career, Mr. Pattison has worked for various Federal OIGs and the private industry supporting audits, evaluations, inspection, and investigations. He previously served as a Regional Inspector General with the U.S. Department of Health and Human Services (HHS) in Kansas City, MO, where he directed programs that provided evaluation results, data support, and quality assessment services across HHS. Prior to his tenure at HHS, Mr. Pattison was Vice President of Audits, Evaluations, and Investigations for Integrity Management Services, Inc. where he managed activities related to auditing techniques, compliance oversight, evaluations, high-level assessments, inspections, investigations, and regulatory review. He also served in management and leadership roles while at OIGs at the U.S. Department of Justice in Washington, D.C. and the Social Security Administration in Dallas, TX.
Mr. Pattison holds a Master of Science in Management and Leadership degree from Western Governors University-Missouri. He graduated with honors from Willamette University in Salem, OR with a Bachelor of Science degree in economics and a minor in political science.