Professional title:
Deputy Assistant Inspector General for Audit - Headquarters Operations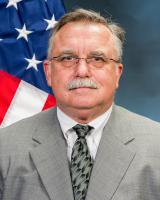 Mr. Frank Rokosz was appointed as the Department of Housing and Urban Development (HUD) Deputy Assistant Inspector General for Audit (DAIGA), Headquarters Operations on July 1, 2014.  The Office of Inspector General's (OIG) mission is independent and objective reporting to the HUD Secretary and Congress for the purpose of bringing about positive change in the integrity, efficiency, and effectiveness of HUD operations.  As DAIGA for Audit, Mr. Rokosz manages the Financial Audit Division, the Information Systems Audit Division, and the Technical Oversight and Planning Division.
Mr. Rokosz was selected for the Senior Executive Service in 2010.  He has served as the Deputy Assistant Inspector General for the Office of Audits - Headquarters Operations, the Office of Policy and Management, and the Office of Evaluations.  Mr. Rokosz began his federal career as an auditor with HUD OIG in February 1987.  He has worked in the Seattle, Denver, and DC offices, performing increasingly complex audits of HUD's programs with increasing levels of responsibilities.
Over his career, Mr. Rokosz has received numerous professional awards from HUD, HUD OIG, U.S. Attorneys, the Council of the Inspectors General on Integrity and Efficiency, and the Lantos Committee on Economic Development.  In 2009, Mr. Rokosz represented HUD OIG at an intergovernmental training symposium between the U.S. and Ukraine on the activities of U.S. Inspectors General.
Mr. Rokosz earned a Bachelor of Arts degree in Business Administration from Seattle University, Seattle, Washington.  Mr. Rokosz has continued his professional development by becoming a Certified Public Accountant, Certified Internal Auditor, and Certified Fraud Examiner.  Mr. Rokosz is an active member in the American Institute of Certified Public Accountants, the Association of Governmental Accountants, the Association of Certified Fraud Examiners, and The Institute of Internal Auditors.
A native of Hoey, Saskatchewan Canada, Mr. Rokosz served honorably in the U.S. Air Force during the Vietnam era.  He is married and has two daughters and two grandchildren.