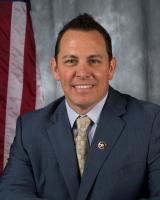 Matthew D. Harris, Ph.D., was appointed Assistant Inspector General for Investigation (AIGI) for the U.S. Department of Housing and Urban Development (HUD) in August 2022.  As AIGI for the Office of Inspector General (OIG), Dr. Harris oversees all investigative field operations across the country.
Before joining HUD OIG, Dr. Harris served as the United States Marshal for the District of Utah.  He was appointed by the President and confirmed unanimously by the United States Senate.  He was responsible for overseeing all district operations, including Court Operations, Judicial Security, and the Violent Fugitive Apprehension Strike Force, which comprised more than 100 State and local law enforcement officers, overseeing a jail population of more than 600 Federal prisoners.
Dr. Harris brings exceptional leadership experience, having served with five Federal agencies outside HUD.  He served as an Assistant Special Agent in Charge with the United States Postal Service OIG.  His role included overseeing headquarters investigative programs, such as asset forfeiture, undercover, and quality assurance oversight.
From 2008 to 2011, Dr. Harris served as the Assistant Director for Criminal Investigations at the U.S. Government Accountability Office.  He managed the investigative operations and conducted investigations with the House Committee on Oversight and Reform and the Senate Committee on Homeland Security and Governmental Affairs.  From 2000 to 2006, Dr. Harris served in the Bureau of Alcohol, Tobacco, Firearms, and Explosives in Salt Lake City and was also the Acting Resident Agent in Charge.  Dr. Harris began his Federal law enforcement career in 1996 with the U.S. Immigration and Naturalization Service.
Dr. Harris has served as an Adjunct Associate Professor of Government and Politics at the University of Maryland and an Adjunct Professor at the John Jay College of Criminal Justice in New York City, where he served on the board of directors for the Association of Inspectors General.
Dr. Harris holds a Doctorate in Business Administration from Northcentral University, a Master of Public Administration degree from the John Jay College of Criminal Justice, and Bachelor of Science degrees in public administration and criminal justice from Kutztown University.  He holds the designations of Certified Fraud Examiner and Certified Inspector General.