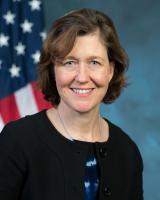 Maura R. Malone was appointed as the Counsel to the Inspector General in September 2020.  Ms. Malone directs the Office of Legal Counsel (OLC) which provides a full range of legal services to promote and support OIG's mission. Attorneys advise OIG on all internal matters and serve as liaison to the U.S. Department of Housing and Urban Development (HUD) Office of General Counsel, the Inspector General legal community, the Department of Justice, and other agencies. OIG attorneys are involved in all aspects of OIG operations, including providing legal support for investigations, audits, and inspections; representing OIG in employment litigation and internal personnel matters; assisting OIG investigators; and advising on legislative initiatives and Congressional testimony. OLC also responds to requests under the Freedom of Information Act (FOIA) and Privacy Act, and directs OIG's Records Management Program
Ms. Malone has over 25 years of experience providing counsel regarding with HUD programs and operations. Since 2014, she has worked in the Office of Legal Counsel, as a senior attorney and a deputy counsel, where she has led numerous initiatives including coordinating OIG's FY20 Top Management Challenges Report, developing a roadmap to the CARES Act for HUD OIG, enhancing OIG's whistleblower protection program, and assisting with the creation of OIG's new risk program.
Prior to joining OLC, Ms. Malone served in several offices of HUD's Office of General Counsel. As the Assistant General Counsel in the Finance Division, she led the team of attorneys who provide counsel to the Government National Mortgage Association (Ginnie Mae). Her efforts supported Ginnie Mae's transformation into a market leader during the financial crisis.  She also led the Administrative Proceedings Division, which prosecutes administrative sanctions against participants in HUD program. She was instrumental in HUD's take-over of the Miami-Dade Housing Authority and a $42 million settlement against an FHA lender for fraudulent origination practices. Ms. Malone began her legal career as a legal honors intern in the Office of Litigation, where her accomplishments included settling the Walker v. HUD desegregation case.
Ms. Malone holds a Juris Doctorate from the University at Buffalo Law School, and a Bachelor of Arts in Political Science from the University of Michigan, Ann Arbor.