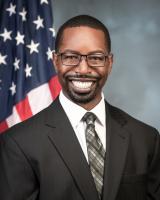 Kudakwashe Ushe was appointed Chief Information Officer (CIO) for the U.S. Department of Housing and Urban Development (HUD), Office of Inspector General (OIG), in June 2021.  As CIO, he oversees OIG's information technology (IT) infrastructure, information management, and IT security.
Throughout his career, Mr. Ushe's extensive experience in developing and using IT systems has been well established.  As Director of Analytics in the HUD OIG Office of Evaluation, Mr. Ushe's efforts allowed the organization to better track and use work products through enterprise reporting dashboards. 
Previously, Mr. Ushe served with the U.S. Postal Service OIG, where he was a Program Manager.  During his tenure, he served as the Product Manager for the modernization and redevelopment of the Office of Investigation Case Management System, Support Service, Hotline, and Legal Request application.  He was also a member of the team that developed a Claimant Fraud Model and Provider Fraud Model, which was recognized by the Council of the Inspectors General on Integrity and Efficiency at its 2014 Awards Ceremony. 
Mr. Ushe started his career in the Federal Government at the U.S. Department of the Treasury's Office of Financial Research, working on the implementation of the Legal Entity Identify and the initial research for the "Too Big to Fail" Report.  He also served in the U.S. Army as a member of the Signal Corps. 
Mr. Ushe received a bachelor's degree in Computer Information Systems from Baker College.  He also holds multiple certifications, including the Project Management Institute PMP Certification and Scrum Alliance Scrum Master certification.