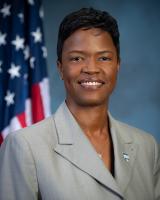 In December 2019, Kilah White was appointed Assistant Inspector General for Audit. As the AIG for Audit, Ms. White is responsible for overseeing the audits and reviews of HUD's programs and operations.
Ms. White has over 20 years of experience with HUD OIG and has worked in every major HUD program area. She was promoted to Assistant Regional Inspector General for Audit in January 2010. In this position, Ms. White was responsible for managing all audits and reviews conducted field staff. In 2017, she became the Regional Inspector General for Audit for Region 6 (Fort Worth Region). In this role, she published numerous impactful audit reports covering major HUD program areas resulting in significant monetary benefits. She has proven her ability to lead collaborative teams and complete complex audits to drive positive change in the Department. Her recent work in disaster oversight has been instrumental in the Department's improvement of controls in the CDBG-DR program. Kilah has also dedicated herself to the success of others in her role as the Ombudsman Coordinator and lead of the HUD OIG Federal Employee Viewpoint Survey Employee Council. She has received numerous awards and recognition for her audits of HUD programs.
Ms. White is a Certified Internal Auditor and Certified ACL Data Analyst. She received her Bachelor of Science degree in Accounting from Howard University in Washington D.C. in 2001. A native of Detroit, she currently lives in Washington D.C.