If you are experiencing or have knowledge of a health and safety emergency involving immediate danger of physical harm to self or others, call 911 or your local law enforcement authority.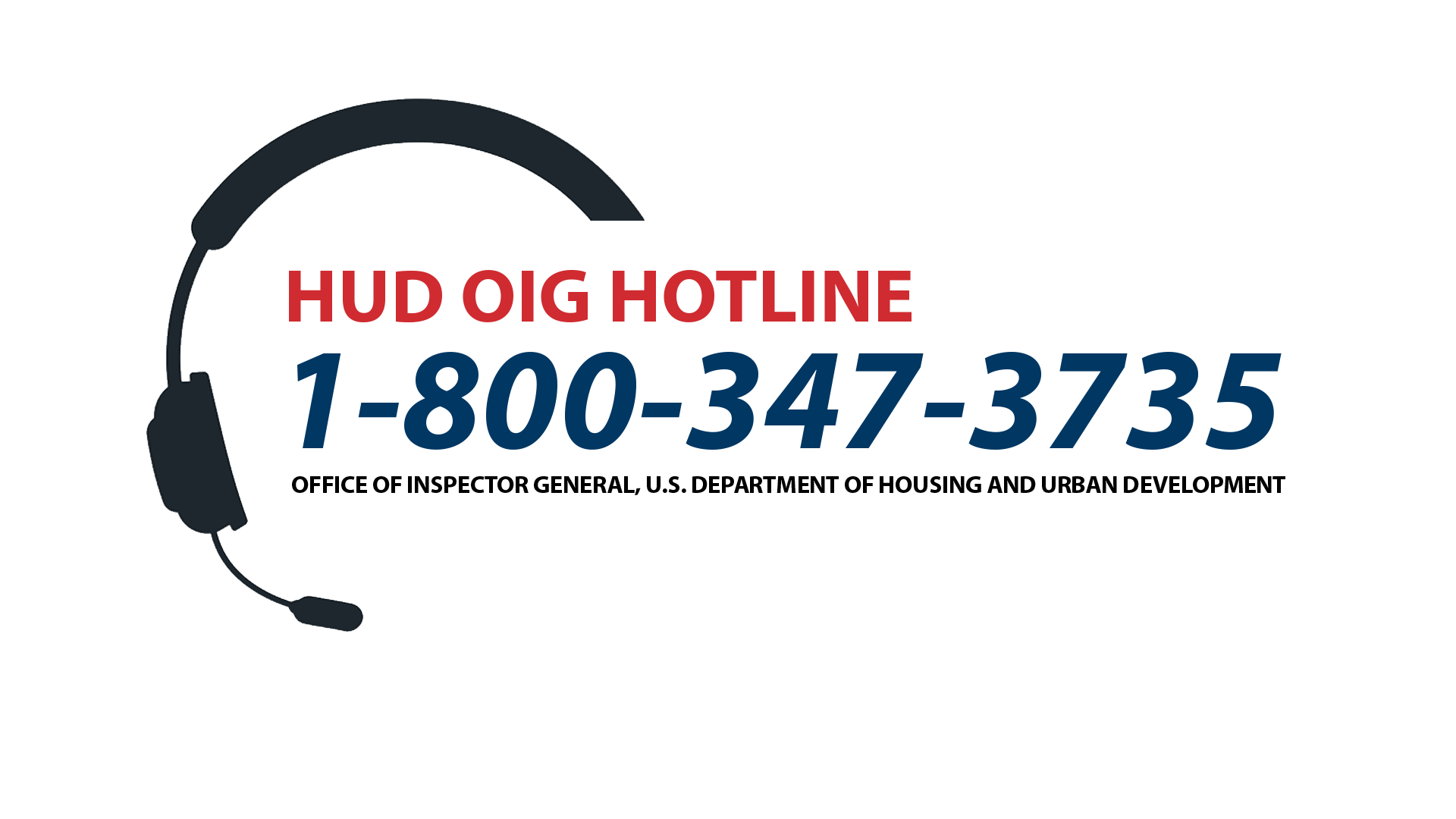 HUD OIG Hotline number: 1-800-347-3735
Toll-Free and Toll Access Number for Federal Relay:
(800) 877-8339 TTY/ASCII (American Standard Code For Information Interchange) – Allows TTY Users to type their conversation
ABOUT THE HOTLINE
The Hotline is the primary means to submit allegations of fraud, waste, abuse, mismanagement or Whistleblower related matters within the U.S. Department of Housing and Urban Development (HUD) and HUD Funded programs to the Office of Inspector General (OIG). 
This website is designed to allow you to provide tip information to the HUD OIG to assist with its missions as set forth in the Inspector General Act of 1978, as amended.
HUD OIG accepts reports of fraud, waste, abuse, or mismanagement in HUD or HUD-funded programs from HUD employees, contractors, and the public. For the following types of complaints about HUD or its programs, or for general questions, see the information below or contact the HUD office nearest to you.
WHAT TYPES OF REPORTS ARE NOT ACCEPTED BY THE HUD OIG HOTLINE?
HUD OIG focuses on reports of fraud or mismanagement with high dollar losses or significant community impact. We try to identify and combine individual reports where possible. For the types of schemes we investigate, see Common Fraud Schemes.

HUD OIG does not investigate routine or administrative complaints that should be reported to HUD program staff, local administrators or other agencies. We also do not provide program information or become involved in day to day program administration. If your complaint is related to one of the types of items listed below, please use the links or phone numbers to raise your concern with the appropriate party.
Public Housing

Multifamily Housing (HUD subsidized apartments)

Manufactured Housing (mobile homes)

Community Planning and Development (grants)

Federal Housing Administration

Foreclosures of FHA Mortgages or Short Sales of Properties with FHA Mortgages

Ginnie Mae (Government National Mortgage Association - GNMA)

Conventional Mortgages (Not FHA)

Housing Discrimination

Interstate Land Sales

FHA Mortgage Insurance Premium Refund Questions and Complaints

FHA Title 1 or 203k Programs

RESPA (Real Estate Settlement Procedures Act)